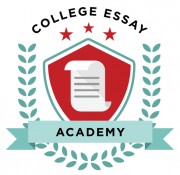 For students struggling with the 2015-2016 Common Application essay or this year's school-specific supplements, College Essay Academy is an attainable and entertaining resource that builds on a decade's worth of consulting experience and a love of internet cats to make the art of the admissions essay accessible and fun for students around the world.
New York, New York, July 27, 2015 (Newswire.com) - College Essay Advisors (CEA) is thrilled to announce the release of College Essay Academy, a 10-chapter animated video series that aims to help rising high school seniors craft compelling and effective college admissions essays. Filling a need in the market for more accessible and affordable essay writing resources, College Essay Academy provides a comprehensive guide to understanding the purpose, executing the process, and maintaining the healthy mindset required to write stellar admissions essays. Stuffed with as many pop culture references and cute animal illustrations as it is with helpful advice, the series provides over three hours of guidance split into digestible 20-minute chapters – perfect for info snackers and binge-watchers alike.
At a time when the college admissions process is becoming increasingly competitive and political, College Essay Academy aims to be the everyman's resource to demystifying the college essay. It is the high-quality, lower-cost alternative to the one-on-one personal advising services College Essay Advisors has been offering students for over a decade, while still imbuing the process with the fun spirit for which CEA has come to be known.
"The college essay writing process is notoriously intimidating. We wanted to create a video series that spoke to students in their own language."

Stacey Brook, Founder and Chief Advisor
"We really believe in the value of this product," says Stacey Brook, the CEO and Founder of College Essay Advisors and the creator of College Essay Academy. "It's going to be a game changer for students who didn't know where to start the process in the past."
College Essay Academy throws cookie cutter essay-writing out the window with its proprietary Uncommon Essay ApproachTM, which provides a sequence for students to follow as they explore their ideas, find their magic topics and execute beautiful storytelling. A carefully curated selection of real essay examples helps bring the process to life without overshadowing the importance of each student's unique personality.
While the series is packed with information and tips, it also comes with chapter-specific Cheat Sheets that walk through an array of low-pressure, high-yield writing exercises. Students leave each episode with advice to act on and adapt to their needs and personalities, rather than a formula to follow.
"The college essay writing process is notoriously intimidating," says Brook. "We wanted to create a video series that spoke to students in their own language." Through a balance of humor and no-nonsense advice, the series was built to empower students to represent their best selves and tell their authentic stories to admissions.
With a range of price points available, College Essay Academy's 101 class guides students through the core writing method for just $99. The complete Master Class also teaches students how to tackle supplemental application essays, and walks them through a range of real essay examples for $159. Episodes 1-6 came out on July 20, and the full series will go live just before the official release of the Common Application in August. View the trailer/Read more about College Essay Academy here: http://academy.collegeessayadvisors.com/
About College Essay Advisors
College Essay Advisors (CEA) works with college applicants to help them craft compelling and effective college admissions essays. CEA's advising services help students reach their maximum potential and present their most polished and intriguing selves to an admissions board, while taking the stress out of the essay writing process. With CEA's guidance, students gain admission to a wide variety of academic institutions including members of the Ivy League and the Big Ten, private liberal arts universities and everything in between. CEA approaches each student's goals with a high level of expertise, an eye towards efficiency and a healthy dose of fun.
Share: